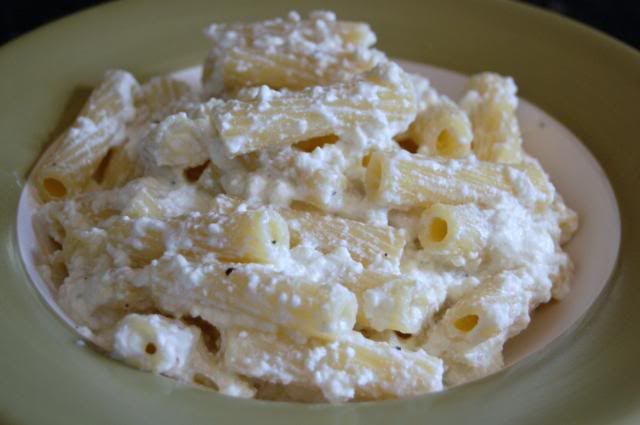 We truly believe that the simplest dishes are usually the most satisfying. Sometimes you just don't feel like slaving over the stove for 2-3 horus to make dinner and would rather whip something up really fast that still tastes great! We have grown up eating this pasta dish. Whenever our mom had a busy day around the house she would make this for dinner because it was so simple and everyone loved it.
There's something about these dishes that makes them so important to us. Maybe it's that these dishes have been made through the generations and somehow we are comforted knowing that these are the foods that our relative and ancestors ate as children.
We know this dish as pasta e ricotta (pasta with ricotta). This pasta dish consists of four ingredients: ricotta, water, olive oil and pasta. It is done in the time that it takes you to boil a pot of water and cook your preferred pasta.
We definitely would reccommend this dish.
So simple. So delicious.
Here is the recipe!
Ingredients
Any tube pasta. (we used tortiglioni)
3 cups of ricotta
2 ladels of pasta water
4 tablespoon olive oil
salt and pepper
Directions
Bring a large pot of water to boil and add salt. Add the pasta and cook according to package directions. While the pasta is cooking put the ricotta in a bowl. Add the olive oil, salt and pepper When the pasta is almost done and the water. The ricotta mixture should loosen and become creamier. As soon as the pasta is ready, drain and mix in the ricotta mixture. Mix well so that the pasta is completely covered in the ricotta sauce.
Serve immediately and enjoy!