Do you guys ever get a recipe that you still get asked for years later? We've found this recipe about 4-5 years ago and we still get asked for the recipe till this day. I guess they are that good! This is kind of a bittersweet story....
It all started about 4 or 5 years ago. We were looking for a cookie recipe that had nutella in them. We came across this recipe on a girl's blog, way before we started our blog. We made these cookies for labor day, or some other summer event, and they were a HUGE hit! Everyone loved them, including us!
How can you not LOVE anything with Nutella in them?!! Although we know someone who isn't a fan of nutella.. yah you read that right! SOMEONE ON THIS PLANET EARTH DOESN"T LIKE NUTELLA!!
Anyways, we lost the recipe... and for a couple years tried to find it... We couldn't find the same one.... we tried multiple times to make these off of our memory and what we thought were the correct measurments. They failed try after try.
Well, this weekend, Lisa found a similar recipe, made some adjustments and discovered that she did it! She recreated the long lost recipe! So here you all go! The ones who have wanted this recipe for years, and the ones who recently have been asking for it!
Nutella Pocket Cookies
Makes 40 cookies
1 cup unsalted butter, softened plus 2 more tablespoons, melted.
1 package (8 ounces) cream cheese, softened
1 cup granulated sugar plus 1\4 cup for sprinkling
1 teaspoon vanilla extract
2 1/2 cups all-purpose flour
1 1/2 cups Nutella
In a large mixing bowl, cream together the 1 cup of butter, cream cheese, and 1 cup sugar until smooth, light, and fluffy. Add the vanilla extract and mix until well combined. Gradually add the flour to the creamed mixture and mix well. Divide the dough into two portions; cover and refrigerate until the dough is firm and easy to handle. An hour should be good enough.
Preheat the oven to 350 degrees. Remove one portion of dough from the refrigerator. On a floured surface, roll out one portion of dough until it is about 1/4-inch thick. Using a circle cookie cutter that is approximately 3 inches in diameter, cut circles out of the dough and place them on an ungreased cookie sheet. Repeat this with the rest of the dough.
Place approximately 1 1/2 teaspoons of Nutella on the center of each circle.
Fold each circle in half so that the edges meet and lightly press the edges to seal.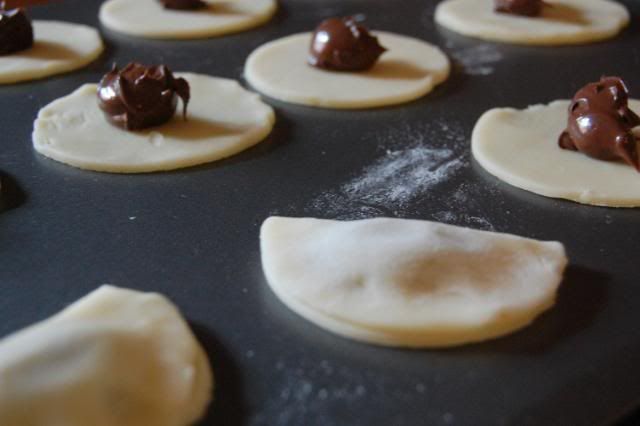 With a fork, seal the edges more securely. Lightly brush melted butter on the tops and sprinkle with sugar.
Bake the cookies for 10 – 12 minutes or until the edges are lightly browned. Leave the cookies on the cookie sheet for 2 – 3 minutes before removing them to wire racks to cool.
Enjoy!