The 12 Days of Christmas Baking
On the 8th day of Christmas, my true love gave to me...
All sorts of Pretzel Rings filled with all kinds of love!
There were several occasions were we have received chocolate filled pretzel rings during the holidays. Even though we would always come across them, we never had the urge to make them ourselves. We have to admit, when we would receive them we wouldn't be that excited. Most of the time we look to make something that is a challenge, but when things are hectic with the holidays around the corner, there is nothing more to love than an easy and fast recipes. To make it fun we tried to mix it up a little, instead of just making them with milk chocolate Hershey Kisses. Our first idea was to fill them with white chocolate/peppermint Hershey Kisses. Let us just say we really weren't expecting anything amazing, but boy were we in for a pleasant surprise. Not only do they look beautiful, but they tasted amazing! The process is pretty much as easy and these pictures do a good job at explaining it, take a look...
We baked them at 275 degrees for 3 minutes. It may take less or more time, depending on your
oven, just keep a close eye on them and make sure to top them with the M&M's as soon as you take them out of the oven. Once they are cooled off and hard you can take them off the cookie sheets and arrange them nicely on a platter.
Our second idea was to use the Rolo candies. We love caramel so we knew these would be a hit too. For some reason they reminded us of reindeer noses, lol!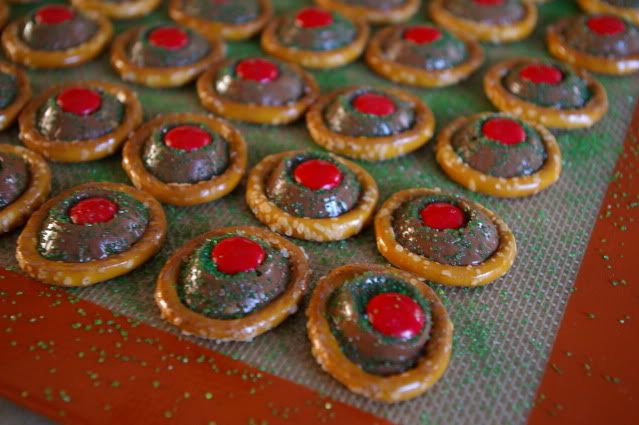 We served both of these at a baking party we recently hosted and every loved them. There is nothing better than knowing something SOOO simple to make was SOOO good. (We figured after scaring you away with the homemade mascarpone cheese, we'd do something really easy.) You can whip these up anytime! It would be a good idea to make these with kids, we plan on making these with our nieces and nephews next week.