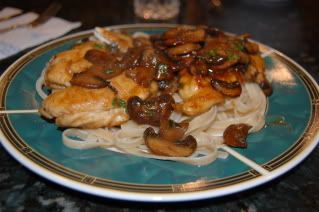 I got this recipe from Katie on
Good Things Catered
. Our friend Sarah was coming over and we cooked this for dinner for everyone. We thought it was good, but maybe next time we would use less marsala wine and maybe substitute some with chicken broth. We served it on top of whole wheat linguine! I definitely would make this dish all the time, but want to play around with it to make it perfect for me. I liked the pancetta in this recipe because it helped balance the sweetness a little. My mom really liked it and said it was better than some of the restaurants she's had this at before! =)
Ingredients:4 boneless, skinless chicken breasts (5-6 oz each), fat trimmed
1 c. unbleached all-purpose floursalt and ground black pepper
2 Tbsp oil2 ½ oz. (about 3 slices) pancetta, cut into 1 by 1/8 in. pieces
8 oz. white mushrooms, sliced (about 2 c.)
1 medium garlic cloves, minced or pressed
1 tsp tomato paste
1 ½ c. Marsala (I only like dry, the recipe calls for sweet)
1 ½ Tbsp juice from lemon
4 Tbsp unsalted butter, cut into 4 pieces
2 Tbsp minced fresh parsley leaves
Directions:-Pat the chicken breasts dry.
-Place flour in a shallow baking dish or pie plate.
-Season both sides of chicken with salt and pepper.
-Working with one at a time, coat both side of chicken with flour.
-Lift the breast from the tapered end and shake to remove excess flour and set aside.
-Meanwhile, heat the oil in a large 12-in heavy-bottomed skillet over medium-high heat until shimmering.
-Place the floured chicken in a single layer in the skillet and cook until golden brown, about 5 minutes.
-Using tongs, turn the cutlets and cook on the second side until golden brown and the meat feels firm when pressed with a finger, about 5 min longer).
-Transfer chicken to the heated plate and return plate to the oven.
-Return the skillet to low heat and add the pancetta.
-Sauté, stirring occasionally and scraping the pan bottom with a wooden spoon to loosen the browned bits, until the pancetta is browned and crisp, about 4 min.
-With a slotted spoon, transfer the pancetta to paper towels to drain.
-Add the mushrooms to the pan and increase the heat to medium-high.
-Sauté, stirring occasionally and scraping pan bottom, until the liquid released by the mushrooms evaporates and the mushrooms begin to brown, about 8 min.
-Add the garlic, tomato paste, and cooked pancetta and cook, stirring constantly, until the tomato paste begins to brown, about 1 min.
-Off the heat, add the Marsala.
-Return the pan to high heat and simmer vigorously, scraping browned bits from the pan bottom, until the sauce is slightly syrupy and reduced, about 5 min.
-Off the heat, add the lemon juice and accumulated juices from the chicken.
-Whisk in the butter, one Tbsp at a time, until incorporated.
-Stir in the parsley and season with salt and pepper to taste.