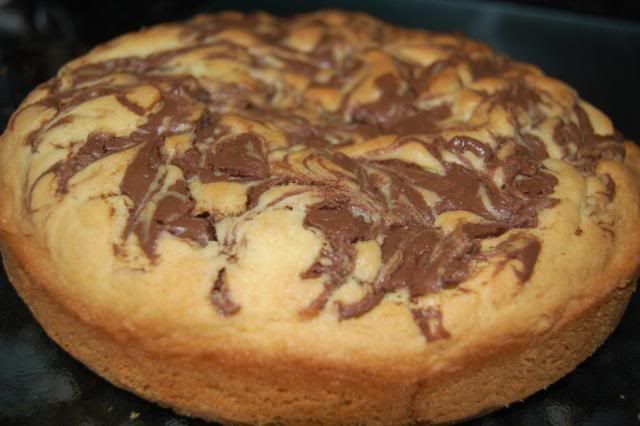 We've came across this recipe several times for a while now. We never got a chance to making it until now and we wished we wouldn't have waited that long! We don't know many people who don't like nutella. Actually.... we know ONE person...
::cough:: ::sarah:: ::cough::
Nutella is amazing and this cake is just perfect! Its a good dessert to have after dinner and even better to have in the morning with coffee or tea.
You could either make this as a cake, like we did, or also as cupcakes.
Nutella Frosted Cupcakes
1 1/2 sticks (3/4 cup, 12 oz) butter, softened
3/4 cup granulated sugar
3 large eggs
1/2 tsp vanilla extract
1 3/4 cups sifted all purpose flour
1/4 tsp salt
2 tsp baking powder
Nutella, approx. 1/3 cup
Preheat oven to 325F.
Line 12 muffin tins with paper liners or grease the cups with some butter. Alternatively, butter an 8-inch round cake pan. Cream together butter and sugar until light, 2 minutes. Add in eggs one at a time, until fully incorporated. Don't worry if the batter doesn't look smooth. Add vanilla. Stir in flour, salt and baking powder until batter is uniform and no flour remains.
Fill each muffin cup about 3/4 full (or pour all the batter into the cake pan). The batter will be thick. Top each cake with a dollop (I used about 2 tsp per cupcake and about 1/3 cup dolloped in tablespoon measures for the cake round) of Nutella. Swirl Nutella in with a toothpick, making sure to fold a bit of batter up over the nutella.
Bake cupcakes for about 20 minutes and the round cake for 25-30.
Remove to a wire rack to cool completely.Makes 12 cupcakes or 1 8-inch round cake.
We did a recipe and a half and used a 9inch cake pan. We think next time we'll just stick to 1 recipe so the cake part will be a little thinner and you'll get more nutella with each bite!
ENJOY! =)