This weeks Tuesday's with Dorie's (TWD) recipe was chosen by Amy of Sing for your Supper. Amy chose Banana Cream pie as you can see! This was our 3rd TWD recipe and we've liked all of them so far. We've had Banana Cream pie in the past, but we've never made it on our own. We've made many different kinds of pie, but never Banana. We made this on Friday after work and we couldn't eat it until Sunday early morning. You see, we gave up sweets for lent... and the only day we can have sweets in on Sunday... We've been suprised on how well we've been doing! We never thought we could bake stuff and half to wait 1-2 days to eat it!! The pie was delicious! Everyone in the house liked it. Our brother Carmine LOVED it and said "I've never had banana cream pie this good!"
We suggest that you buy Dorie's book if you don't already have it. Trust us when we say, you'll LOVE it!
You can find the recipe on Amy's blog
here
.
The recipe was really simple to make. I think it took us less than 2 hours to do everything! It's a basic pastry cream, made with brown sugar instead of white sugar, with just a hint of cinnamon and nutmeg in it. Once you have the crust and filling ready all you do is bake the crust and let it cool, then layer it with pastry cream and bananas, and then top with fresh whipped cream. Dorie adds a touch of sour cream to the whipped cream and we thought that was a great idea! We liked the flavor a lot! We couldn't get any decent pictures of a pie slice... so sorry! We're working on perfecting our picture and blog layout! hang in there with us! =)
This weekend was crazy for us because on top of this pie we had to bake TWO birthday cakes! Here are some pictures.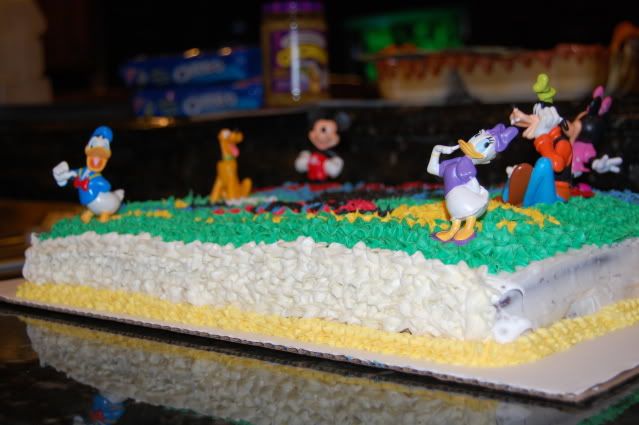 This was for our niece Priscilla's 3rd birthday. She wanted a Mickey Mouse Clubhouse cake!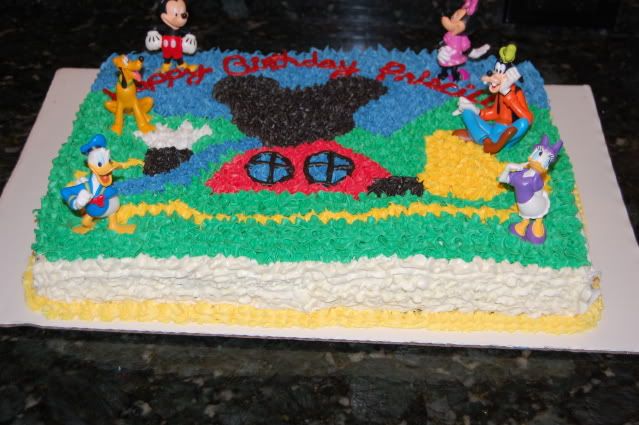 It was a chocolate cake with a nutella and mascarpone whipped cream! YUMMY!
The second was for our Brother Dominic. We kept it pretty simple.
This was a lemon chiffon cake with a lemon curd filling.