We know, we know! We're a day late with this post. We've just been really busy, but we will try to get back to posting on Tuesdays! We almost skipped this recipe but then we thought, how could we skip on this recipe!! This week's Tuesdays with Dorie (TWD) recipe was chosen by Beth of Supplicious: Chipster-Topped Brownies. You can find the recipe here!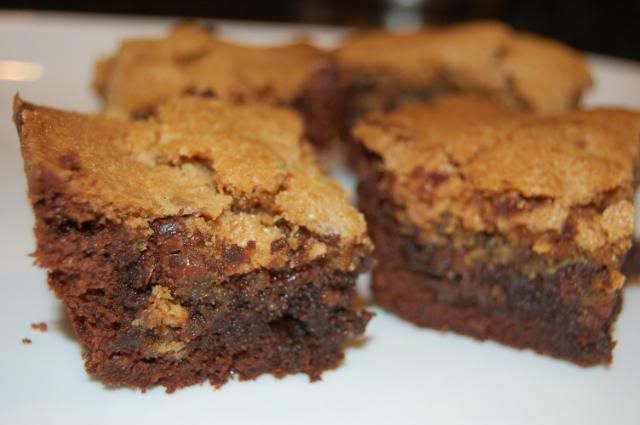 These turned out really yummy! We don't know how no one thought of this recipe before. Brownies AND Chocolate chip cookies! What more could you want. =)
We cooked these for 10 minutes longer and keep them covered for half of the time.
The brownie layer was moist and chocolatey and the cookie layer was golden brown and crunchy. We used bittersweet chocolate for the brownies because we couldn't find unsweeted chocolate! We definietley would make these again, but next time just bake them a little longer because the very middle of the pan was a little undercooked!
Make sure you visit the
TWD Blogroll
to see what everyone else thought about this weeks recipe!
* Recipes notes:
- We used 9 oz of bittersweet chocolate in place of the 6 oz bittersweet and 3 oz of unsweetened chocolate.
- We omitted the walnuts from the brownie layer.
- We placed a foil tent over the brownies for half of the cooking time,