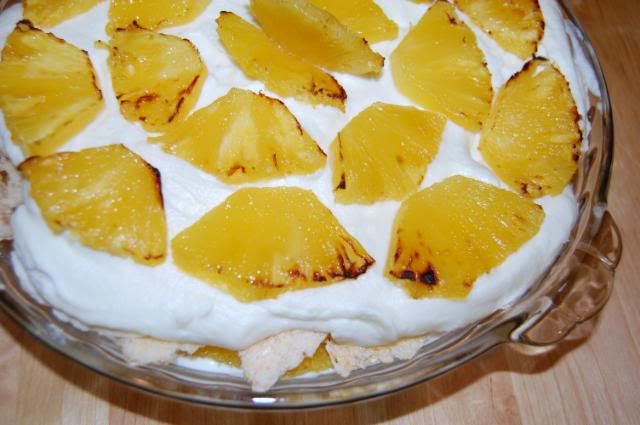 Do you guys like our new blog design?! We are so excited to have it up and couldn't be happier thanks to Samantha at
Temptation Designs
. She was so great to work with and was concerned about how we wanted our blog to look! We definitely would reccomend working with her. Shes great!
This week's TWD recipe, Coconut Roasted Pineapple Dacquoise, was chosen by Andrea. You can find the recipe on her blog,
Andrea's Kitchen.
This is 3 meringue layers filled with white chocolate ganache whipped cream with broiled carmelized pineapples on top!
The picture for this recipe always stood out to us whenever we looked through Dorie's book. Everything seemed to be going well with this recipe! The meringue turned out great, we had no promblems with the white chocolate ganache whipped cream, but then everything quickly turned into a disaster!! After baking the meringues for 3 hours we took them out of the oven only to find that they were stuck to the pan!! With help from the TWD bloggers we realized that we used wax paper instead of the recommended parchment paper.... The wax paper melted into the merinigue and the pan.... So all we could think to do was to salvage as much as we could and make a trifle layer with the broken pieces of the meringue.
So how did it taste?? Well we were so dissapointed with what happened that we were to frustrated to taste anything. We went straight to bed. We checked on it this morning and 3\4 of it was gone. We guess somebody really liked it!
We did try each individual layer as we were making everything and on their own everything tasted really good! Especially the white chocolate ganache whipped cream! Oh well! We don't think we would make this again. We look foward to next weeks Perfect Party Cake!
Stay tuned!