On the twelfth day of Christmas my true love gave to me.. These wonderful Chocolate-Peppermint Cupcakes, topped with Eggnog Frosting!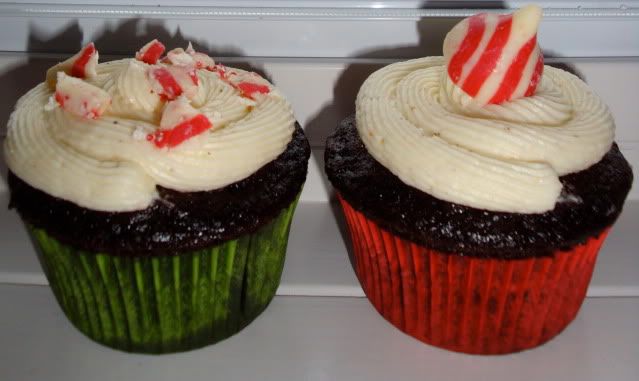 What a way to end our 12 days of Christmas. We wanted to end it with a bang, and after MUCH thought we came up with this combination. Here are some pictures of the step by step processes.
We came across a
recipe
for chocolate cake from Ina Garten a few years ago, and it is absolutely the best one ever!! We will never try to use another recipe. I halved her recipe and it made 12 cupcakes. Bake the cupcakes at 375 degrees for 20-22 minutes.
We have been crazy about these Hershey kisses since we discovered them last week! They are white chocolate with peppemint stripes and tiny pieces of candy cane in them.
You can decorate them any which way you would like!
Wait until you see the inside!
We had some leftover eggnog so I thought it was worth the risk to try and make a frosting out of it. This is what we came up with and I have to say its amazing!
Ingredients:

1 1/2 sticks unsalted butter, softened

2 1/4 cups powdered sugar

1/3 cup eggnog

1 teaspoon vanilla extract

Directions:

Cream the butter until light and fluffy. Add the powdered sugar and mix until combined Last, add the eggnog, vanilla extract, salt, cinnamon, and nutmeg.
This was the first time we tried this cupcake/frosting combination, and we have to say that we absolutely loved it. The only thing we would change is that instead of putting a whole hershey kiss at the bottom of each cupcake, we would chop them into tiny pieces and mix it into the batter.
Also we recommend to store the cupcakes in an airtight container at room temperature. You can either frost them when you need them or refrigerate the frosted cupcakes and bring them to room temperature before you serve them.
For those of you that followed our 12 Day of Baking, we want to thank you and we hope we were able to give you guys some recipes you, your friends and families will enjoy for the holidays!
Have a
Merry
Christmas
Everyone!
Stay tuned for the New Year we have a big surprise!!