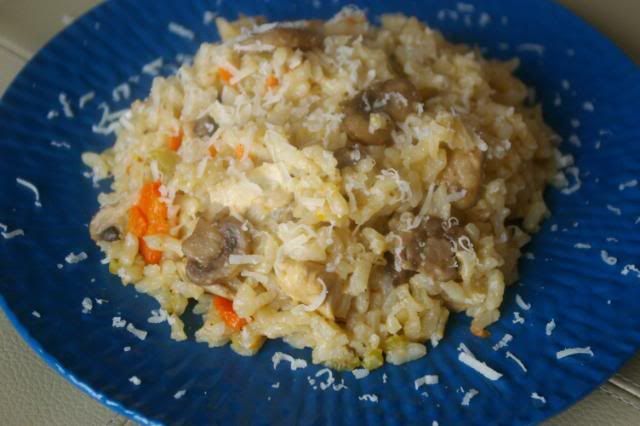 We LOVE making risotto. We make it once every 1-2 weeks. What we love so much about risotto, is that you can put so many different things in it. We've made risotto with just about every single vegetable! We have always wanted to make it with chicken and boy are we glad that we finally did.
This risotto is defintely on our top 5 list. It is VERY good. You have both your meat and veggies in this dish so all you need to do is serve this with a nice salad.
Enjoy this recipe!
Serves 6
Ingredients:
2 lb boneless, skinless chicken breast halves, cubed
5 tbsp olive oil, divided
All purpose flour
1 onion, chopped
5 cloves garlic chopped
1 lb button mushrooms, thinly sliced
3 carrots, thinly sliced
2 stalks celery, thinly sliced
1 leek, washed well and thinly sliced
2 cups arborio rice
1/2 cup white wine
4 cups simmering water, flavored with chicken boullion cubes
3 tbsp butter
3/4 cup grated Pecorino Romano cheese
Salt and pepper
Method:
Season chicken with salt and pepper. Heat 3 tbsp olive oil in a large skillet over medium-high heat. Sauté the chicken until well browned and cooked through. Place onto a plate and keep warm.
In the same large saucepan, heat 2 tbsp olive oil over medium-high heat. Add onion, garlic, mushrooms, carrots, celery, and leek. Cook until mushrooms are just beginning to brown. Add rice, stirring constantly, and cook 5 minutes more, making sure rice does not brown. Add wine, stirring constantly, and let totally evaporate. When wine is evaporated, begin adding stock 1/2 cup at a time, letting each addition evaporate before adding the next addition. You will probably need to do this 5-6 times.
After last addition of stock is added, begin tasting rice. Rice should be al dente when done. You need to keep tasting rice, because, depending on rice, you may or may not have to use all of the stock.
After last addition of stock is absorbed, remove from heat, and stir in chicken, butter and pecorino cheese and season with salt and pepper. Serve!