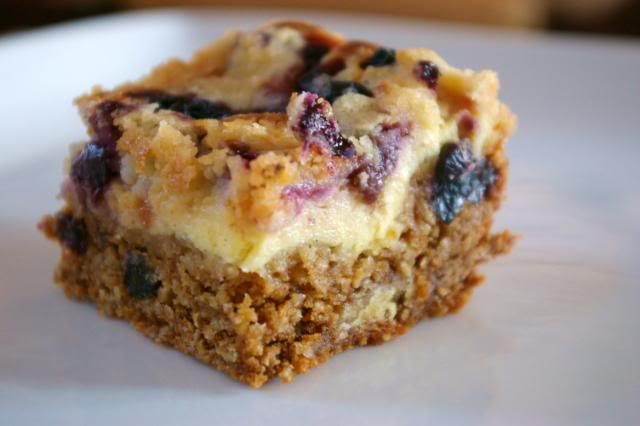 These are seriously the most sinful things we have created yet.

Blueberry Cheesecake Bars with an Oatmeal Cookie Crust and Crumb Topping. WOW. Now that's a mouthful! Lisa went ahead and created these up herself this past weekend. She put these together using her most favorite flavors and created this fruity, chewy, creamy, sweet, tart, and buttery treat.
This recipe is definitely one that you want to try. Seriously. There is nothing more to say.
Ingredients:
Crumb Topping
1/2 cup flour
1/2 cup sugar
1/2 tsp salt
1/2 cup butter, chilled and cubed
Oatmeal Cookie Crust
1 cup butter, softened
1 1/2 cups light brown sugar, packed
1/2 cup granualted sugar
2 eggs
1 tsp vanilla extract
1 3/4 cups flour
1 tsp baking soda
1/2 tsp salt
1 1/2 tsp cinnamon
1/4 tsp nutmeg
3 cups rolled oats
1 cup raisins
Cheesecake Filling
12 ounces cream cheese
1/2 cup sugar
2 eggs
2 tsp fresh lemon juice
1 tsp vanilla paste (or extract)
1 pint fresh blueberries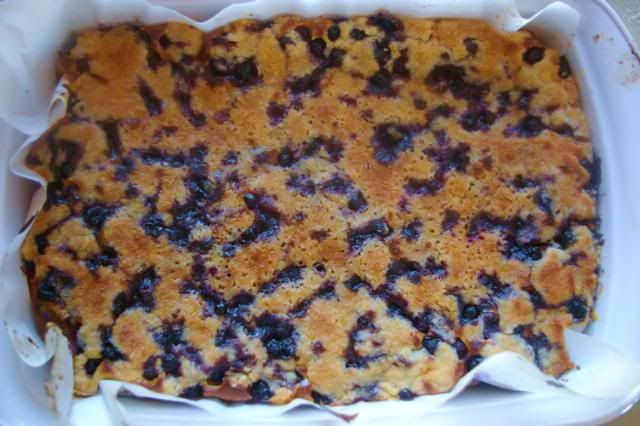 Directions:
First go ahead and make the crumb topping. Comine the flour, sugar, and the salt in a food processor. Add the butter and pulse until the mixture is crumbly. Pour into a bowl and rub the mixture with your fingers until it starts to hold together. Keep cold in the refridgerator while you prepare the other layers.
Now, you can go ahead and assemble the oatmeal cookie crust layer. Preheat the oven to 350 degrees. Line a 13" x 9" baking dish with parchement paper.
In a large bowl beat butter, brown sugars, sugar, eggs and vanilla with a hand held mixer until well blended. In a medium bowl combine flour, baking soda, salt, cinnamon and nutmeg. Add dry ingredients to butter mixture, stirring until just combined.
Fold in oats and raisins. Use only 3\4 of the dough for the crust and press it lightly into the bottom of the baking dish. We used the remaining dough to make oatmeal cookies, but feel free to freeze and save for another use!
Now we can begin with the cheesecake filling. In a medium bowl, beat cream cheese and sugar on medium speed until light and fluffy. Beat in eggs, lemon juice and vanilla paste. Pour the cheese filling over the crust and, using a spatula, spread it out evenly. Scatter the blueberries over the filling. Lastly, sprinkle the crumb toppng evenly over the fruit.
Bake for 40 minutes. Increase the oven temperature to 375 degrees and cook for 10 minutes longer. If your crumb topping has not browned nicely, feel free to place the oven on broil for 5 minutes and this will do it!
Let cool at room temperature for an hour. Place in the refridgerator and chill for 2-3 hours. Lift the bars out of the baking dish. Slice in squares. We got 24 squares.

**These taste their best when chilled completely and eaten cold.
Enjoy!