I

don't know if it's just us, but we have been going crazy for tart frozen yogurt since this past summer. We kno

w on the west coast, everyone is crazy about Pinkberry but here in Chicago, we have Berrychill, Red Mango, and Yogenfruz.
Tart frozen yogurt is something where the first time you try it, you're not crazy about it. We think because most people don't expect the tartness at first, but once you keep trying it YOU WILL FALL IN LOVE WITH IT!
There is something just so refreshing about the tart and tangy yogurt and fresh fruit to go on top of it. Not to mention you can have dessert without feeling guilty! Now that's what we're talking about! Last summer we discovered Berry Chill and Red Mango in Chicago. We were so happy and soo sad at the same time. You ask why? Wellll, because we live 40 minutes from Chicago! Our cravings were getting too strong and we had to figure out something else! Luckily a few months later, we discovered there was a Yogenfruz 15 minutes away from our house! To make things even better we realized how simple it is to make! So basically we were hooked for good! But that's not a bad thing, its good to be addicted to frozen yogurt. We think....right??
Take a look at the super easy recipe:
First we mixed 3 cups of greek yogurt with 1\2 cup of sugar. ( The less sugar you put the more tart it will be. With 1/2 cup of sugar it was slightly sweeter than what we get at Yogenfruz, Berrychill, & Red Mango.)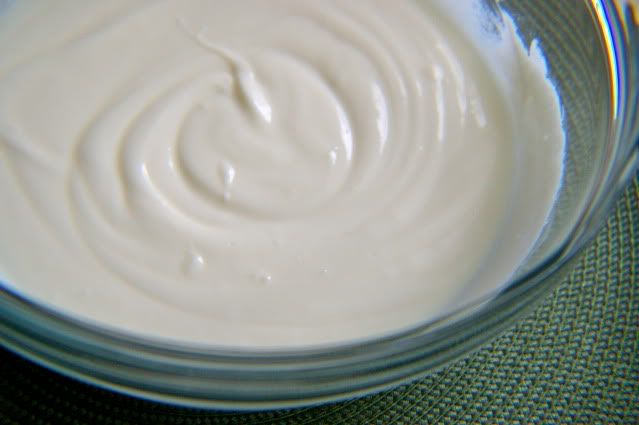 Then, pour it into your ice cream machine! Look at the creamy goodness! YUMMMYY!
While you wait for the ice cream machine to do its thing, you can get your toppings ready.
Our favorites are: strawberries, blueberries, kiwis and most of all coconut flakes!!
We LOVE that the topping options are unlimited! Another good combo is strawberries, mangos, and a drizzle of honey. You can basically mix any of your favorite fruits, and you can even add other toppings like, crushed cookies & chocolate chips.
Great, after writing this post we are having another frozen yogurt craving! Off to Yogenfruz.. Ciao!