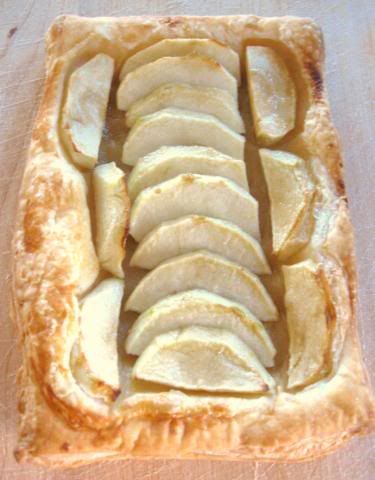 The Tuesdays with Dorie pick for this week was Parisian Apple Tartlet chosen by Jessica of
My Baking Heart
. This was recipe was so simple and only four ingredients were needed to make it!
Don't you just love recipes like that?! Dorie suggested that you use an all butter puff pastry dough. In the past, we've only used Pepperidge Farm's frozen puff pastry dough. We learned about Dufour puff pastry dough. We found some at Whole Foods. It's quite expensive. $11.99 per container! We were excited to work with this dough. It got rave reviews online!
The only thing we changed from this recipe was its shape. We couldn't find any of our round cookie cutters. Actually, we were just to lazy to look for them! =) We just made them into rectangles.
We made two versions: some with apples and some with peaches and blueberries. Lisa's boyfriend, Rinaldo, made his own apple version along with a cherry and blueberry one. He's a pretty good cook but he can't compete with our baking! ;)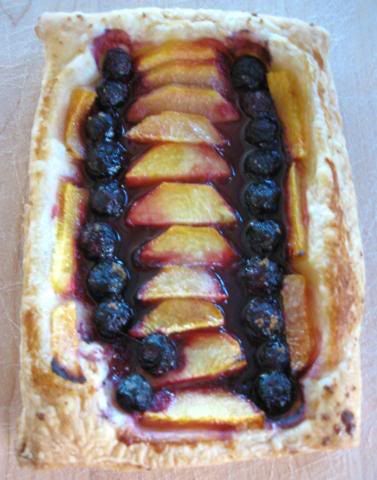 Sorry that the photos aren't too great! Maria was out yesterday so I, Lisa, had to take the pictures and of course Maria had the camera in her car! I had to use to regular camera and it's not the greatest! =( Oh well!
We liked this recipe a lot! We really recommend the Dufour puff pastry dough, but we just wish is was cheaper! You can find the recipe
here!