The 12 Days of Christmas Baking On the second day of Christmas, my true love gave to me These TO DIE FOR Oreo Truffles.
Ok , if there is one recipe that is a GUARANTEE, this is it! It is so simple and they are ridiculously, amazingly, good! Oreo truffles are a decadent, rich, delicious dessert . If you haven't tried this recipe yet, WHAT ARE YOU WAITING FOR??!"
There are several reasons why we like to make Oreo Truffles.
First, of course, Oreo balls are sinfully good!
Second, they are rich enough that most people will eat only a few. So Oreo balls make great treats for parties or get togethers because they go a long way.
Third, the Oreo balls recipe is pretty inexpensive to make. Since this recipe makes about 3 dozen, it is a bargain.
The Oreo balls recipe only uses four simple ingredients. Most of us have at least some of the ingredients sitting in our kitchens already. Also, you can make these for any holiday! Just play with the chocolates and the decorations!
They're so good that they make you want to make a little snowman out of them!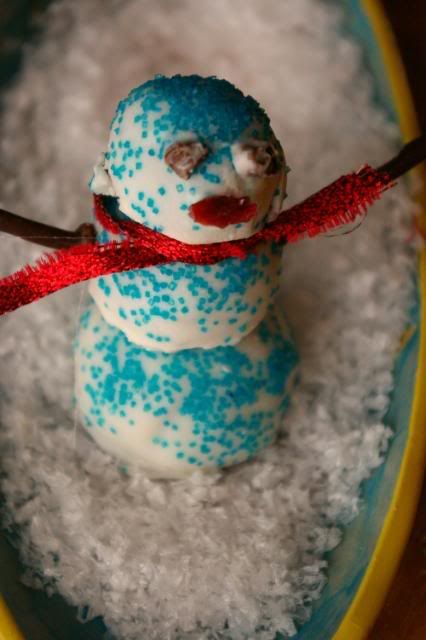 SEE??!
Here is the recipe!
INGREDIENTS:
1 pkg of oreos
8oz cream cheese
1\2 tsp vanilla extract
1lb of white chocolate almond bark, chopped
DIRECTIONS:
Using a food processor, grind cookies to a fine powder. With a mixer, blend cookie powder, cream cheese and vanilla extract until thoroughly mixed.
Roll into small balls and place on wax-lined cookie sheet. Refrigerate for 45 minutes.
Line two cookie sheets with wax paper. In the microwave, melt the white chocolate almond bark in a heat-proof bowl. Dip balls and coat thoroughly. Using two forks, lift balls out of chocolate and let excess chocolate drip off. Place on wax-paper-lined cookie sheet.
Store in airtight container, in refrigerator.